A passel of Disney sports films come to Blu-ray: Miracle (buy), The Rookie (buy), Remember the Titans, The Greatest Game Ever Played (buy), Invincible. Paramount has rereleased a pair of Audrey Hepburn classics, Sabrina (buy) and Roman Holiday (buy). Other new releases or rereleases, some seen and some unseen by me, include Black Swan, King of Kings, The Spiderwick Chronicles (buy), The Secret of NIMH and The Human Experience.
With Tangled, Disney finally takes on the Rapunzel story, with winning results. An ingenuous and personable heroine, a dashing rogue, a twisted villainess, and an extremely conscientious horse make for a sparkling tale with heart, wit and swashbuckling action. It's not a perfect film, and the climax is a bit of a letdown, but the fun along the way is definitely worth the trip.
I'm a fan of Blu-ray/DVD combo editions, whether or not you have a Blu-ray; there's also a Blu-ray/DVD set that includes a 3D version of the film, but 3D for television hasn't arrived yet in my opinion. Whichever Blu-ray edition you get, the highlight of the bonus features is a 12-minute making-of featurette called "UnTangled: The Making of a Fairy Tale" that goes into character design, the lantern sequence, the animation of Rapunzel's 70 feet of hair and Disney history trivia.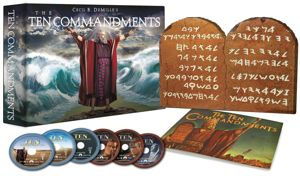 Celebrating its 55th anniversary, The Ten Commandments is newly available in three editions, a DVD edition, a 2-disc Blu-ray edition and a 6-disc Blu-ray/DVD Gift Set. The best new bonus feature is a 75-minute making-of documentary "The Ten Commandments: Making Miracles" that's on the DVD set and the 6-disc Blu-ray/DVD Gift Set, but not the 2-disc Blu-ray edition. The best previously available extra is DeMille's original 1923 silent version of The 10 Commandments — for film buffs a must-see thanks to the awesome sets and the spectacular Jell-O parting of the Red Sea — which is only available on the 6-disc mega-edition, making that the edition to get.
I haven't had a chance to see "Charlton Heston Presents the Bible." (buy), a set of four documentaries now available as a 4-disc set from Warner Bros. The series comprises "Genesis," "The Story of Moses," "Jesus of Nazareth" and "The Passion."