Posted Feb 8th 2013, 01:36 PM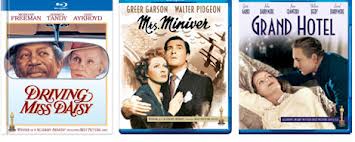 What does this year's Best Picture front-runner Argo have in common with Grand Hotel (1932) and Driving Miss Daisy (1989), both recently released on Blu-ray?
If Argo wins, they'll be the only sound movies in history to win Best Picture without a Best Director nomination for the director. (The only other Best Picture winner without a director nomination was the Academy Awards' first Best Picture ever, the silent 1927 Paramount film With Wings.)
Both Grand Hotel and Driving Miss Daisy recently debuted on Blu-ray, along with a third Warner Bros Best Picture winner, Mrs. Miniver (1942). For product notes on the Blu-rays, see the new reviews.